If you're talking about the 2016 NFL season Lord of Rohan, The Tuddy Guys are with you every histrionic delivery of every line of dialogue step of the way!
Three pinwheels, six meatballs, one terrible Bears second half and 423 more reasons reminding us Drew Brees can still be a fantasy fireworks display later, Week 1 is in the books. For the record, the meatballs were amazing. There so many other things that stood out: the close games, those meatballs, the home losses, the way the Rams defied conventional thought of how a team could suck. The sad nap after the Bears lost.
A few things to keep an eye on the next few weeks fantasy freaks:
Back to Drew Brees: He shredded the Raiders, tossing four Tuddy's, one of the 98 yard variety. Thank you Brees and Brandin Cooks for making fantasy football worth living. Can he keep it up? The Tuddy Guys doubt he's going to transform into the Brees of 2011, but any game that the Saints play at home is a must-start-no-doubt-sit-back-enjoy-the-points-plosion.
Role Call: Welcome you fresh faced fantasy celebrities! You might recognize them as the guys you glared into the TV on Sunday and hissed: who's that dude NOT on my team scoring all those points?! Can they handle the bright lights?
Eagles QB Carson Wentz flashed some talent in his Week 1 victory over the Browns. It's just hard to get too excited over anyone that torches the Browns. Pretty sure 75% of their team is comprised of softball players that just now are realizing they're not playing the sport softball.
Raiders RB Jalen Richard is a tough case. He looked magically delicious catching the ball from Derek Carr. He's also stuck in a log jam backfield that will take weeks to figure out its hierarchy. Richard, for now, is still at the back of the line. Texans WR Will Fuller is the most intriguing option. He is lightning fast and already is making plays and catching Tuddy's. Titans WR Tajae Sharpe also piques the interest, who didn't post a stellar fantasy stat line, but firmly established himself as the no. 1 target of Marcus Mariota.
3: Running back up the truck- It was a tough week for RB's that were drafted in the first few rounds. The top 5 RB's for Week 1 (Deangelo Williams, C.J. Anderson, Spencer Ware, Theo Riddick and Carlos Hyde) did not go in anyone's first round. David Johnson had a nice Week 1 but after that a lot of fantasy teams were breaking dishes over the output of their top RB's. Here's to hoping the Todd Gurley's, Adrian Peterson's and Ezekiell Elliott's of the world turn it around fast. Or just save yourself the trouble and get in those sweatpants now and brace for the tears.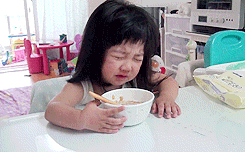 Let's get to the Week 2 games!  Plus some fantasy predictions along the way………..
JETS AT BILLS
The Bills D played tough but still surrendered a back breaking 66 yard Tuddy to Mike Wallace last week against the Ravens. This is where Brandon Marshall comes in. Marshall delivers the goods in fantasy and the Jets stifle Tyrod Taylor and the Bills. MUST START: Brandon Marshall, Lesean McCoy, Matt Forte, Sammy Watkins.
TUDDY PICK: JETS 27 BILLS 17
49ERS AT PANTHERS
Chip Kelly's wielding the magic wand. No more happy thoughts after the Panthers home opener. Their offense simply can't keep up with Cam. Blaine Gabbert throws passes into the willing arms of Panthers defenders. Panthers dominate. MUST START: Cam Newton, Kelvin Benjamin, Greg Olsen, Carlos Hyde.
TUDDY PICK: PANTHERS 30 49ERS 13
COWBOYS AT REDSKINS
Welcome to the real life version of the upcoming movie 'The Disappointments Room". Both teams have a lot to prove after lackluster openers. The Cowboys will try and feed Ezekiel Elliott and Kirk Cousins will try and get his groove back. Both are not sure things. MUST START: Ezekiel Elliott, Dez Bryant, Jordan Reed.
TUDDY PICK: REDSKINS 20 COWBOYS 16
BENGALS AT STEELERS
Both teams flexed and twerked their way to impressive victories. A.J. Green and Antonio Brown represent one of the best WR match-ups you'll ever see. The problem is these games, historically, are nasty and obnoxiously low scoring. Both teams will drive the ball with regularity. Then kick a ton of field goals. MUST STARTS: Antonio Brown, Deangelo Williams, A.J. Green.
Why watch? Oh, just this guy…….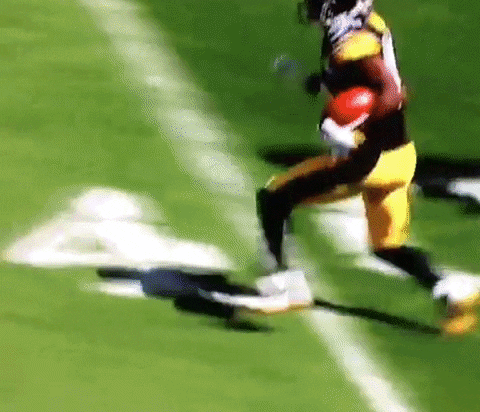 TUDDY PICK: STEELERS 13 BENGALS 10
SAINTS AT GIANTS
Now we're talking. The Tuddy Guys aren't buying into this revamped Giants D just yet and Drew Brees is coming off a vintage Brees Tuddy bonanza. Expect a high scoring game that once again finds the Saints coming up short. Let the fantasy points reign! MUST START: Drew Brees, Eli Manning, Odell Beckham Jr., Brandin Cooks, Willie Snead.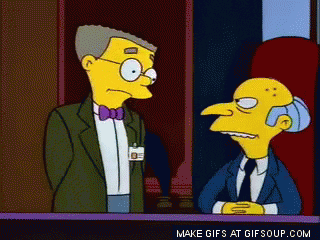 TUDDY PICK: GIANTS 38 SAINTS 28
DOLPHINS AT PATRIOTS
Jimmy G and the P's come home to face a Dolphins offense that has a huge anchor around its neck named Ryan Tannenhill. This game could be closer than most might think and Adam Gase designs games that keep his teams in all four quarters. The Patriots make enough plays to win. MUST START: Julian Edelman, Arian Foster, Jarvis Landry.
TUDDY PICK: PATRIOTS 23 DOLPHINS 17
CHIEFS AT TEXANS
The Texans have offensive weapons. The guy chucking it around the field is a work in progress. Luckily the Texans D rounded into shape, dominating the Bears makeshift offensive line. Alex Smith will need time to find his receivers and sustain drives. This would be a huge win for the Chiefs on the road. MUST START: Spencer Ware, Travis Kelce, Lamar Miller, Will Fuller, Deandre Hopkins.
TUDDY PICK: CHIEFS 24 TEXANS 23
TITANS AT LIONS
What the hell are the Titans doing on offense? What the hell was Matt Stafford doing running a functioning one last week? It' early, but the Lions looked pretty smooth. Theo Riddick and Ameer Abdullah flashed an excellent 1-2 combo. Lions are missing a no. 1 WR. But they have three great 2's in Marvin Jones, Golden Tate and Anquan Boldin. MUST START: Theo Riddick, Matt Stafford, Tajae Sharpe.
TUDDY PICK: LIONS 22 TITANS 13
RAVENS AT BROWNS
Cops: Reloaded. Synopsis: A man drives through yards to evade officers in Fort Worth TX. A man fights with mother's elderly boyfriend. The Tuddy Guys ARE NOT saying that episode airing on Sunday sounds more entertaining and watchable than Ravens vs. Browns. Ok, yes we are. MUST START: Gary Barnidge.
TUDDY PICK: RAVENS 16 BROWNS 9
SEAHAWKS AT RAMS
Russell Wilson is questionable. Believing the Rams are a good team is also listed as such. Yet, this is the first home game right here in Los Angeles and the Rams have a history of making the Seahawks bleed to earn their victories. This might be the biggest fantasy stay away game of the day. MUST START: Seahawks D. Steven Hauschka.
TUDDY GUY JOEY PICK: SEAHAWKS 19 RAMS 10
TUDDY GUY DAVE PICK: SEAHAWKS 13 RAMS 6
BUCCANEERS AT CARDINALS
The Cardinals cannot afford to start 0-2. The Buccaneers are dangerous. Dangerous like a Friday night in a country song. Party hard, raise a little hell. Make huge, epic mistakes. The Tuddy Guys see a lot of fantasy points and a high scoring game. MUST START: Carson Palmer, Jameis Winston, David Johnson, Doug Martin, Mike Evans, Michael Floyd, Larry Fitzgerald.
TUDDY GUY JOEY PICK: CARDINALS 37 BUCCANEERS 34
TUDDY GUY DAVE PICK: CARDINALS 28 BUCCANEERS 24
JAGUARS AT CHARGERS
Just when you count Phillip Rivers out, he fires up the arm and puts points on the board. The Jaguars played the Packers tough in Week 1 and a lot of people are going to like them to win this one. The Tuddy Guys are split on this one. The one thing we can agree on is that Rivers will take the field with a sack full of  screaming "Woo's!!!!!!!" on the sidelines for the boys on Sunday. MUST START: Phillip Rivers, Allen Robinson, Allen Hurns, Danny Woodhead.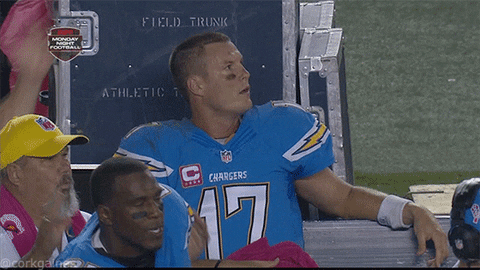 TUDDY GUY JOEY PICK: CHARGERS 27 JAGUARS 26
TUDDY GUY DAVE PICK: JAGUARS 17 CHARGERS 14
FALCONS AT RAIDERS
Is the Raiders D any good? They didn't quite inspire confidence as Brees carved them up Boston Market style. But…for New Orleans. We like Boston Market. The Tuddy Guys LOVE the emergence of Tevin Coleman in the passing game for the Falcons. This game stays close and then big plays by the Raiders D (Matty Ice pick 6) allows them to coast to a 2-0 start. MUST START: Amari Cooper, Tevin Coleman, Julio Jones.
TUDDY GUYS JOEY PICK: RAIDERS 28 FALCONS 7
TUDDY GUYS DAVE PICK: RAIDERS 31 FALCONS 21
COLTS AT BRONCOS
The Tuddy Guys forecast a few things happening: The Broncos control the clock, after a hot early scoring drive Andrew Luck throws a pick and the Colts somehow find a way to blow the game. This is a solid test for Trevor Semien. We're not saying the Colts D is good, we're saying that the matchup presents Semien with a great opportunity to have a strong outing. MUST START: C.J. Anderson, Emmanuel Sanders, Donte Moncrief.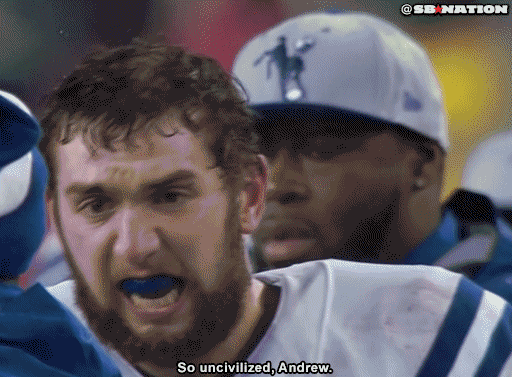 TUDDY GUY JOEY PICK: BRONCOS 17 COLTS 14
TUDDY GUY DAVE PICK: BRONCOS 17 COLTS 14
(Tudddyyyyyyyy)………..
PACKERS AT VIKINGS
The Tuddy Guys are split on this one. If Bradford starts, the Vikings have enough on offense to support a defense that could make Dark Lord Rodgers night worse than a guest appearance on "The Bachelor". On the other hand, Rodgers churns out first downs and dominates the entire game. It's too early to identify the contenders from the pretenders but this game has major division implications. MUST START: Aaron Rodgers, Adrian Peterson, Jordy Nelson, Minnesota D.
TUDDY GUY JOEY PICK: VIKINGS 24 PACKERS 23
TUDDY GUY DAVE PICK: PACKERS 31 VIKINGS 10
BEARS AT EAGLES
Finally! The Piece de Resistance! The game we've all been waiting for. Two juggernauts……ok, we'll stop. Back in the spring when the schedule was released this game even garnered a, "Guh?" The Bears played an excellent first half against the Texans and then played like it was still the preseason in the second half. The Eagles played the Browns. That's basically like a fifth preseason game. Carson Wentz has talent but will make mistakes. The Bears should win this one, Wentz will turn the ball over and this will confuse everyone in Chicago for the rest of the week. Get ready for a lot of this America!!!!!! TUDDY GUY JOEY PICK: BEARS 19 EAGLES 14
TUDDY GUY DAVE PICK: BEARS 21 EAGLES 14
The Tuddy Guys gotta roll! Our Beardom is oozing onto the keyboard. Thank you so much for checking out tuddyguys.com. Follow us on twitter @tuddyguys and like our Facebook page! Check out our videos and subscribe at youtube.com/tuddyguys. NOW GO WIN THAT LEAGUE!!!!!!