Congratulations to the new father A.J. Green! 2o minutes after learning your new born child had arrived happy and healthy you went out and dropped 10 receptions, 173 yards and a Tuddy against the Dolphins. Congratulations ALSO is in order to The Tuddy Guy New Baby Theory. For years our belief is that whenever a player welcomes a child into their family and plays a game within 24 hours they put up monster numbers. Doug Martin's four Tuddy game in 2o12 is proud of you A.J.. Thanks for keeping the tradition alive!
Last week The Tuddy Guys got demolished on our picks 6-9. It wasn't for the feint of heart out there in Week 3 but that won't stop us from taking chances in Week 4.
BYE WEEKS: PACKERS AND EAGLES
There aren't too many people who took Carson Wentz as their starting quarterback in fantasy so The Tuddy Guys are going to assume you've got that covered. But for those of you who have Aaron Rodgers, consider these replacements:
1. Trevor Semien vs Buccaneers. The Bucs have allowed 7-1 Tuddy's to interceptions. They also are allowing almost 32 points a game to receivers. Even on the road, Semien is poised for a productive day.
2. Joe Flacco at home vs the Raiders. The Raiders D already has been torched for over 1,000 passing yards by opposing quarterbacks. Flacco can chuck the rock a long way.
3. (If you're desperate) Dak Prescott at 49ers OR Blaine Gabbert vs. Cowboys. This game should be a grind fest but two lackluster defenses offer plenty of opportunities.
TUDDY SEASON PICKS : 16-14. On to the games! Let's get 'em right!
COLTS AT JAGUARS
Allen Robinson has been targeted 32 times for only 15 receptions through three games. That's just one of the many ingredients in the current batch of Blake Bortles Hate Soup.  The game is in London. Bortles already has six interceptions. This could be a disaster for the London Jaguars. Thankfully they play the Colts, a team that keeps teams in games like a kid who can't help inviting the entire school to their birthday party. Even the asshole that kicked their ass over an Ecto-Cooler juice box. They're a glutton for punishment. The London Factor: there will be at least 3 interceptions on the board before most of us even wake up on Sunday. FANTASY THUMBS UP: Allen Robinson, T.Y. Hilton, Andrew Luck.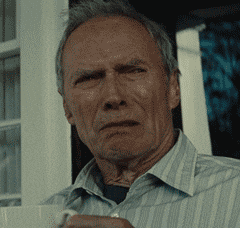 Good morning Clint? Can I get you a hot cup of interceptions?
COLTS 28 JAGUARS 21
TITANS AT TEXANS
Two teams already doing the doggie paddle in the deep end of the 2016 NFL season. The Titans haven't scored more than 16 points in a game this year. The Texans just put J.J. Watt on IR with a bad back. This game will be decided by two runnings games that rank in the top half of the NFL through three games. Demarco Murray has quietly had an excellent start, racking up 377 all purpose yards. Lamar Miller, thanks to 74 carries, is as good as advertised. Miller didn't see his 74th carry until Week 7 of last year. FANTASY THUMBS UP: Demarco Murray, Lamar Miller.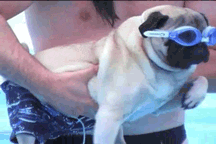 That's it, you'll be at 8-8 before you know it little guy!
TEXANS 16 TITANS 13
BROWNS AT WASHINGTON D.C'S
Washington wins, but it's another ugly one against an awful Browns team. Waiver wire pickup of the week Jamison Crowder already has seven red zone targets. Desean Jackson should be poised for a huge game. Kirk Cousins plays within the 20's and leads his squad to a ton of field goals. In Browns news, Terrelle Pryor is coming off an explosive game. Wide receiver Josh Gordon also has checked himself into rehab the week before his suspension ends. And the hits just keeeep on comin' for Cleveland. FANTASY THUMBS UP: Dustin Hopkins, Desean Jackson, Terelle Pryor.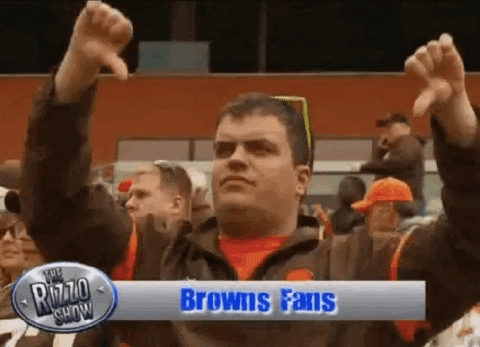 Browns fans wake up like this.
WASHINGTON D.C.'S 29 BROWNS 20
SEAHAWKS AT JETS
The Seahawks haven't given up a Tuddy to opposing quarterbacks thus far in the young season. Ryan Fitzpatrick last week handed out interceptions like they were copies of his Mumford and Sons cover band album.  Brandon Marshall has been targeted 29 times in 2016 but has only 13 receptions, a less than 45 percent completion percentage. Marshall will stay silent only so long. In fantasy, but also verbally. On the other side, the Jets defense has seen 54 targets thrown to wide receivers and have allowed 38 receptions. Russell Wilson will be hobbled in this game and he still will play better than Fitzpatrick. FANTASY THUMBS UP: Christine Michael, Jimmy Graham.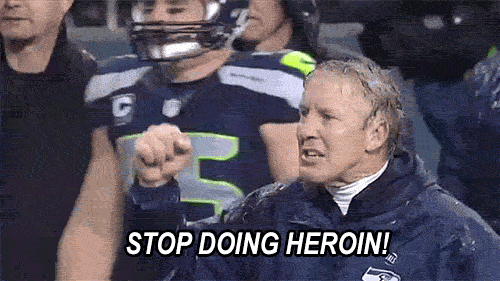 Pete Carroll: protecting the kids. Can't protect Russell Wilson.
SEAHAWKS 14 JETS 9
BILLS AT PATRIOTS
The Bills have surrendered the second most Tuddy's to running backs with five. Who starts at quarterback for the Patriots? Larry Bird? Drew Bledsoe? Does it even matter? Weird stat: the Patriots have only allowed one made field goal so far in 2016. The Bills play this one close and squeeze out a victory thanks to a strong red zone game from Lesean McCoy. FANTASY THUMBS UP: Lesean McCoy, Lagarette Blount, Julian Edelman.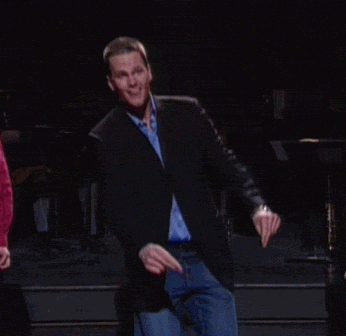 Cheer up Pats fans. Guess who's coming baaaaaaaack ……………
BILLS 19 PATRIOTS 17
PANTHERS AT FALCONS
The Falcons have an excellent 1-2 punch in the backfield. Matt Ryan is currently the number one quarterback in fantasy per NFL.com. The Falcons offense is averaging 448 yards of total offense a game. The problem is their defense gives up 433 a game. The Panthers are 1-2 and banged up at running back. They need this one has much as you could 'need' a game in September. Paging Fozzy Whitaker: Falcons D has given up over 500 all purpose yards and four Tuddy's to opposing backs through three games. FANTASY THUMBS UP: Devonta Freeman, Cam Newton, Matt Ryan, Tevin Coleman, Fozzy Whitaker, Greg Olsen, Kelvin Benjamin.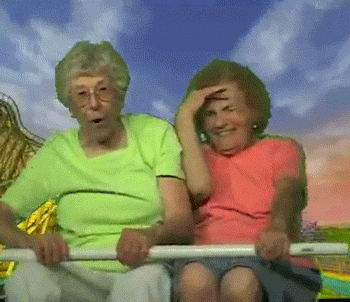 Joey and Dave checking our fantasy scores during this game.
PANTHERS 37 FALCONS 31
RAIDERS AT RAVENS
Amari Cooper already has 270 receiving yards. For perspective, Cooper has been targeted 34 times and has only 16 completions. Connecting with your best receiver less than 50 percent of the time isn't good. The 3-0 Ravens will have trouble keeping up with the Raiders firepower. Tight end Dennis Pitta leads the Ravens in receptions. The only thing the Ravens have going for them is a coaching staff and veteran players that can sneak up on a young Raiders team still trying to decide whether they're good or not. FANTASY THUMBS UP: Amari Cooper, Mike Wallace, Dennis Pitta, Derek Carr.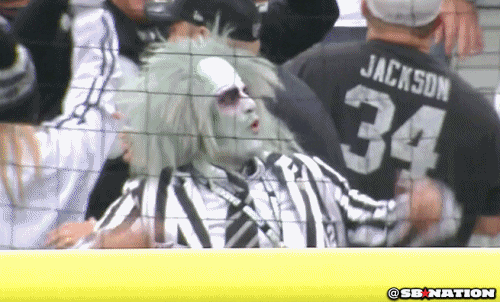 Underdressed Raiders fan.
RAIDERS 27 RAVENS 19
LIONS AT BEARS
The urge here is to unleash a bitch-fest. About Jay, GM Ryan Pace and how I'd rather chug piping hot milk than watch Jim Caldwell and John Fox try and "out-coach" each other. A few stats: The Bears defense has 12 fantasy points. All season. Bad? The Lions defense has nine. The Lions have already surrendered 10 Tuddy's to quarterbacks. The Bears are in the bottom half of total offensive yards a game (27th), passing yards (23rd), rushing yards (30th) and points per scored (30th). The Bears can't go winless ALL SEASON and they've lost six straight against the Lions. Matt Stafford is the number 3 quarterback in fantasy right now. Marvin Jones will most certainly get his in this one. Then take some more. But it's impossible to trust the Lions, so the Bears sneak one out this week……psyche! FANTASY THUMBS UP: Marvin Jones Jr., Matt Stafford, Jordan Howard.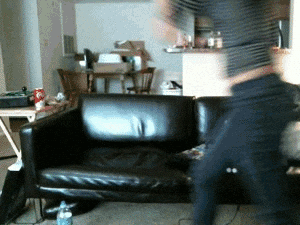 You can't escape the TV Bears fan. No one is safe.
LIONS 34 BEARS 17
BRONCOS AT BUCCANEERS
As mentioned before, this is a strong game for Trevor Semien. The Buccaneers D is nothing special and Semien is coming off a four Tuddy performance. Emmanuel Sanders, after a enormous fantasy week, now has eight red zone targets. The Broncos defense gives Jameis Winston problems at home and the Broncos winning ways continue in Tampa. FANTASY THUMBS UP: Mike Evans, Trevor Semien, C.J. Anderson, Emmanuel Sanders, Demaryius Thomas.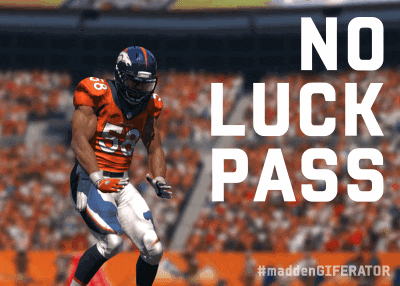 Von Miller Time.
BRONCOS 27 BUCCANEERS 16
RAMS AT CARDINALS
This game could be a mess. The Cardinals are searching for an identity and the Rams are still searching for the ancient destination some call "The End Zone". Carson Palmer has been inconsistent at best. The only chemistry he has right now is with Larry Fitzgerald. Michael Floyd has been targeted 23 times and has only 9 receptions. That's a completion percentage of 39%. John Brown has disappeared. David Johnson is second on the team with 10 receptions. Look at us, so rude and disrespectful. The Rams offense would kill for any of these things were talking about: receptions, gaining yards, an offense. The Cards win, but all the kinks aren't ironed out yet. FANTASY THUMBS UP: Larry Fitzgerald, David Johnson.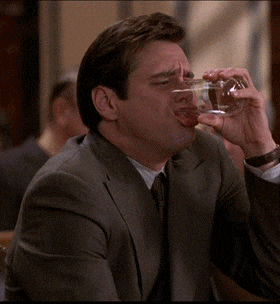 Carson drops back, throws to an open receiver……overthrown!
CARDINALS 23 RAMS 9
SAINTS AT CHARGERS
The Saints defense has scored three points. Like, for the entire season so far. Here you are sir! One fantasy point for your coffers! Now scamper home to your folks before a plague ridden rat bites you! I think it's safe to say Phillip Rivers is a must start. The Tuddy Guys aren't big fans of Brees on the road. But in San Diego, an afternoon start time and a chance to kick the shit out of the team that drafted him has us feeling confident. Brees continues his hot start but Rivers gets the win. The Saints have given up seven total Tuddy's to opposing running backs. FANTASY THUMBS UP: Drew Brees, Phillips Rivers, Melvin Gordon, Brandin Cooks.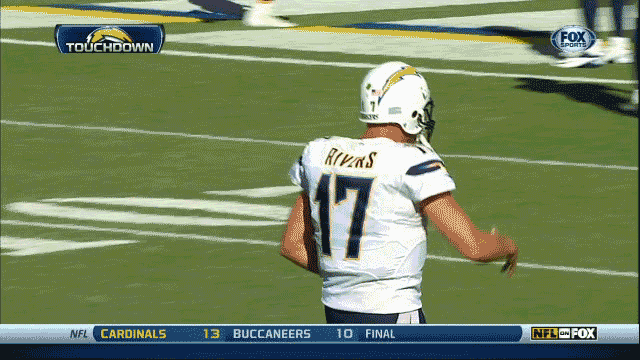 River-dance.
CHARGERS 38 SAINTS 28
COWBOYS AT 49ERS
Looks like the Cowboys will be without Dez Bryant and on the other side Jerry Rice no longer plays for the 49ers. This screams of a ground it out, clock controlling, field goal, limit the turnovers snooze fest of a game. There will be a ton of short yardage third down situations. Ezekiell Elliott and Carlos Hyde are both coming off strong fantasy weeks. This will continue. The big key will be Dak Prescott's red zone offense. FANTASY THUMBS UP: Ezekiel Elliott, Carlos Hyde, Cole Beasely, Dan Bailey. Everybody loves those field goals!
COWBOYS 16 49ERS 14
CHIEFS AT STEELERS
Chiefs have eight interceptions so far this season. More reasons for the Steelers to be scared? The Chiefs live off of converting third downs. The Steelers have only sacked the quarterback once this season. They also got their doors blown off by the Eagles last week. Reasons for the Chiefs to be scared? The Steelers got embarrassed last week and they'll be mighty pissed off. They'll also be welcoming the return of Leveon Bell. Bell is a legit Top 10 Fantasy Force. The Chiefs have given up the 11th most fantasy points to running backs, per NFL.com. Between Antonio Brown AND Leveon Bell on the same team, it's hard to bet against the Steelers. FANTASY THUMBS UP: Ben Roesthlisberger, Travis Kelce, Leveon Bell, Antonio Brown.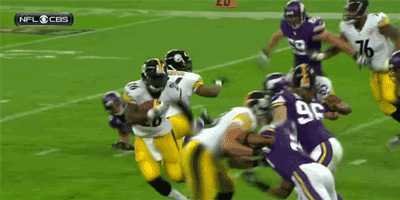 If you have forgotten the tricks of Leveon Bell's trade. A reminder.
STEELERS 28 CHIEFS 27
GIANTS AT VIKINGS
The Vikings have 15 sacks, five interceptions and five forced fumbles. Heck, those are three of Eli Manning's favorite things! Every year there comes a fantasy defense out of nowhere that's so formidable they become a weekly stay away. Minnesota is that team moving forward. They're fast, well coached and brimming with pissed off confidence. The Giants could hang in this one if Odell decides to stop getting into fights with kicking nets and put up some fantasy numbers 'Odell Style' FANTASY THUMBS UP: Vikings D, Odell Beckham Jr., Stefon Diggs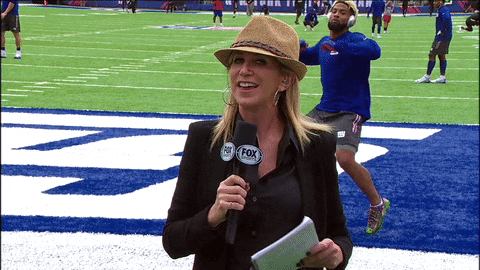 It's been one hell of a Sunday. Time for an ice cold Odell Style!
VIKINGS 17 GIANTS 13
Thank you very much for checking out tuddyguys.com Follow us on twitter @tuddyguys and 'Like' our Facebook page Tuddy Guys. Check out our past episodes on our youtube channel Tuddy Guys and subscribe today. NOW GO WIN THAT LEAGUE!!!!!!!